This post may contain affiliate links. If you buy thru these links, we may earn a commission at no additional cost to you.
---
When looking at the following list of my favorite toe rings, you'll notice that I tend to be pretty conservative.
My taste is simple, yet classy.
One thing's for sure, I wear my toe rings 24/7 through the winter, spring, summer and fall. My feet feel naked without my toe rings on!
My favorites?…
I like toerings that you can wear with everything, rather than having to change toe rings because this one doesn't go with a particular outfit or something.
I'll also say, straight up… I much prefer solid, fitted rings to adjustable one-size-fits-all rings. (Mostly because of the pinch factor, and the increased likelihood that you'll "catch" an adjustable ring on something.)
These are my favorite toe rings of all time…
Sterling Silver Swirl Adjustable Toe Ring

I have one similar to this. It's always been one of my favorite designs, because it's completely adjustable …without the pinch! Since it adjusts on top of your toe, you don't feel it as you walk.
14K Gold Swirl Adjustable Toe Ring

Similar to the silver one mentioned above… Another benefit of this type of toe ring being open on top is that it's less likely to catch on things as you walk, and less likely to fall off.
Double Band 14K White Gold Toe Ring

I like the double bands because they give you a bit more substance in a toe ring. Plus, the tiny stone on top makes it a bit more noticeable on your toe. I tend to wear a ring like this only on special occasions.
10K Yellow Gold Crossover Toe Ring

As with the double band ring above, these rings do tend to be wider along the bottom than most other toe rings. For that reason, you are probably more likely to feel the pinch than you would with thinner bands.
Slinky Sterling Silver Toe Ring

This is just a fun ring. I always like rings with a "hollowed out" space in them. That way, your toe actually shows through part of the ring. The only drawback to this ring is the fact that it's wider than most toe rings. For that reason, you might want to order a half-size larger — that's what I do with wider band rings that I wear on my toes.
Sterling Silver Flower Adjustable Bypass Toe Ring

This is one of the most adorable rings I've found that looks great on toes! I especially like that it's 100% adjustable, yet you don't have the "pinching" problem, since the open side is on TOP of your toe. This is a very sweet ring. I love it.
Epiphany Platinum Gold Diamonique Toe Ring

This diamond-looking ring gives you that timeless classic look. This ring is a bit "dressier" than some, but if you tend to dress up more than you dress down, then this may be the perfect to ring for you.
I have this one in the "regular" ring size, and I wear it on my index finger. I like it because it's my "reminder" ring. (It's similar to the "tie a string around your finger" theory.) And it's cute too!
14K Gold Diamond Accent Double Scroll Toe Ring

This one's a little bit of elegant and a little bit of casual — all wrapped up in one toe ring. If I were looking for a ring to wear with business attire and/or a more professional lifestyle, then this would be the one for me. I like that it's simple, yet elegant — all at the same time.
Check out my favorite gold and sterling silver band rings (adjustable and solid bands).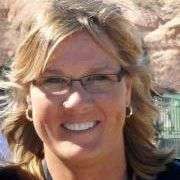 Who knew that I'd be writing about feet for a living?!… Or even that a website devoted solely to feet, shoes, and foot care issues would be successful? But as it turns out, many people have questions and concerns about their feet — and we do our best to provide the most helpful answers here. Myself and a handful of others who happen to have some rather unique foot issues share our firsthand experiences with everything from ingrown toenails, bunions, calluses and rough feet to trendy shoes and helpful foot modeling tips. When I'm not writing about all things below the ankle, you will find me at the corner of Good News & Fun Times as publisher of The Fun Times Guide (32 fun & helpful websites).