This post may contain affiliate links. If you buy thru these links, we may earn a commission at no additional cost to you.
---
Getting ready for your first pedicure?
While each place will certainly be a little different in one way or another, I've been to enough nail salons and day spas to say that this is the basic procedure you go through when getting a pedicure — no matter where you go.
Here's what you need to know.
5 Special Things Just For YOU
First things first…
It's all about you when you go in for a pedicure:
1. Walk-in's welcome. Usually this is the case. Some of the nicer full-time spas like to require reservations, but even they will generally accomodate a walk-in visitor — if there's someone available at that time to do your pedicure.
2. A big fat smile. At every single facility I've ever been to for a pedicure, I've always been greeted by a warm welcome and a cheery smile the moment I walked in the door. It's quite nice. At this time, they invite you to pick a nail color of your choosing from the "wall of nail polishes". They'll apply this polish to your toes right before you leave.
3. Bottle of water (optional). I've noticed that more and more places are starting to offer complimentary "feel-good" services to their clients. Just something small… you know, a personal touch that sets them apart from all of the other places out there. Some that I've noticed:
a bottle of water to enjoy while they're doing your pedicure
cookies & coffee to sample while waiting for the next available rep
giant flat-screen TVs hung on the walls so you can watch TV from any angle while they're doing your pedicure
cushy massage chairs, where you are in charge of the controls
complimentary flip-flip sandals (no, they not technically flip FLOPS). These are disposable. They keep you from having to walking on the floor & out to your car with naked feet while your nail polish is drying
This is what the Flip Flips look like… They've got a bit of cushioning to them. And they come in lots of fun colors.
These things are so "cute" I even saw a pair for sale at the Goodwill Store yesterday! Yep, right there next to the high heels, tennis shoes, and "regular" Flip Flops… there was a pair of blue Flip Flips.
Who knows?… Flip Flips might become so fashionable, they replace bowling shoes as the next "gotta have it" retro shoe!
4. A personal assistant. I always feel like I'm being "waited on" when I'm getting a pedicure. They try to do anything in their power to make it a comfortable and pleasant experience for you. (So you'll want to come back!) I've never met more agreeable and complimentary people than those in nail salons and spas.
5. Pure relaxation. While they're catering to your every foot-related need, you are encouraged to just relax and enjoy. Just don't fall asleep, cuz you need to know when to switch feet! When prompted you have to repeatedly get one foot out of the "spa water" and put it up on the footrest so your pedicurist (is that a word?) can work on it, while at the same time you put the foot he or she just worked on back into the water.
The Steps In A Pedicure:
Remove existing nail polish & moisturize toenails
Trim & file nails
Trim cuticles
Scrub your feet to remove any rough spots
Moisturize
Polish your toes
Dry your nail polish
Between each and every step, your feet are soaking in warm, bubbling water!
Typically, it goes a little something like this:
(Each action is something they do, not you. You simply relax & enjoy the pampering.)
Right foot: Remove nail polish… add a nail moisturizer… soak
Left foot: Ditto
Right foot: Push back the cuticles… trim the nails… remove any hangnails… file as necessary to shape… add a dab of cuticle oil… then back in the water
Left foot: Ditto
Right foot: Scrub feet with a pumice stone (or ceramic stone) to remove rough spots… use a callous remover (with a very fine razor blade) to "slice" the really thick spots off (it doesn't hurt)… more soaking
Left foot: Ditto
Right foot: Moisturize foot with lotion… perform foot massage… then leg massage (up to the knee)… soak again
Left foot: Ditto (ask if they can go back & do that for about 5 more minutes)
Right foot: Dry off foot completely including toes… add a clear base coat of polish… followed by the nail polish you picked out earlier… followed by a top coat… (NO MORE SOAKING! …a sign that the end of the pampering is near)
Left foot: Ditto
Right foot: Place a flip-FLIP on your foot… being careful not to smudge the wet polish (these typically come in lots of fun colors!)
Left foot: Ditto
It is at this point that you are finally required to step out of la-la land and exhert a little effort as you move from one chair to another. You are escorted from your comfy personal massaging chair to a different chair that's situated in front of a nail dryer.
These are really cool… I want one! There's a nail dryer for fingernails — that's placed on the tabletop, and a nail dryer for toenails — placed at floor level.
The Upsides & Downsides of Pedicures
The Bad:
Before you get your very first pedicure, you may want to go with someone to witness exactly how things are done at that particular salon first. I say that because cleanliness and how they sanitize their tools are important to me.
Most places are obviously clean and the tools they use have been obviously sanitized, but you really don't know unless you've been there before. And if you have any questions… ask! If they don't have the answer you're looking for, move on. There are tons of great salons out there.
At one salon I go to, they place all of the items they've used during my pedicure into a microwave-looking machine which completely sanitizes them in a matter of minutes. And for items like that callous remover — with the thin razor blades — they use a fresh-out-of-the-package razor blade just for me. I watch as they open it. And I watch as they throw it away. And the tool itself is one that gets put into the sanitizing machine.
The Good:
Something I haven't quite figured out yet…
I don't know whether it's the brand of nail polish (usually O.P.I. at the places I go), the type of base coat & top coat they apply, simply the act of "baking" on the nail polish as you sit in front of those dryers for about 15 minutes, or a combination of all of the above — but my nail polish definitely lasts longer! And it never chips after a pedicure! Never ever.
It's well-worth the price you pay for a pedicure, if you ask me. (Basic pedicures around here generally run $25-$40.. I have a hard time paying more than $25.)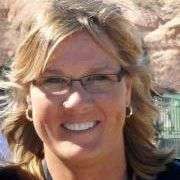 Who knew that I'd be writing about feet for a living?!… Or even that a website devoted solely to feet, shoes, and foot care issues would be successful? But as it turns out, many people have questions and concerns about their feet — and we do our best to provide the most helpful answers here. Myself and a handful of others who happen to have some rather unique foot issues share our firsthand experiences with everything from ingrown toenails, bunions, calluses and rough feet to trendy shoes and helpful foot modeling tips. When I'm not writing about all things below the ankle, you will find me at the corner of Good News & Fun Times as publisher of The Fun Times Guide (32 fun & helpful websites).