I thought this was funny.
Not funny ha ha, but more like funny sweet.
…just one of those things that makes you smile!
Kudos to fellow Nashvillian, Brody Harper, on the birth of his third child, Cooper Trey.
Hence the dilemma when he was deciding what sort of tattoo to get in honor of the newborn.
You see, he already had one footprint of each of his first two children tattooed onto the tops of his own feet: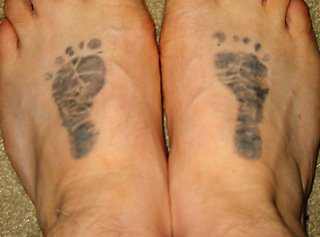 I'm not sure what he eventually decided to do, but I like his thoughts.
And, in case you were wondering…
I guess this is what Brody's feet look like when they're dressed for success: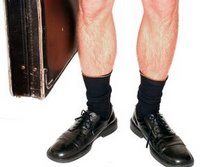 Congrats to the entire Harper family!!!
And be sure to bookmark their blog, In Case You Were Wondering for lots more fun (…and funny) stories!

Listen to Bud Light's Real American Heroes "Mr. Fake Tattoo Inventor":
https://feet.thefuntimesguide.com/files/Bud_Light_Real_American_Heroes_Mr_Fake_Tatoo_Inventor.mp3
.