This post may contain affiliate links. If you buy thru these links, we may earn a commission at no additional cost to you.
---
What size are your toes?
I dunno.
But I can tell you that the toe I tend to wear my toe rings on (the toe next to my big toe) is the exact same size as the pinky finger on my hand.
If you don't have a pinky ring to experiment with, here's how to accurately determine the size of toe ring you need…
Size Matters
Sizing is only necessary if you're choosing a "fitted" toe ring over an "adjustable" toe ring.
For a fitted toe ring (one that is solid all the way around), you could use a standard ring sizer to accurately measure your toe size. Most jewelers have 'em.
Since the average person doesn't have a ring sizer lying around, you can also use a piece of string or a piece of paper.
1. Simply wrap the string (or paper) around the fattest part of your toe — at the joint, where your toe bends.
2. Then, mark the part of the string/paper where it meets the other end.
3. Finally, use this ring sizing chart to determine your exact toe ring size.
Toe Ring Sizing Tips:
For an adjustable toe ring, there aren't any real sizing issues to consider. Adjustable toe rings have a gap on the backside that allows them to be loosened or tightened to fit practically anyone's toe size.
According to FootCandy, the most popular toe ring sizes for women are 3 and 4. The most popular toe ring sizes for men are 5 and 6.
Getting A Toe Ring On & Off Your Toe
A fitted toe ring needs to feel snug on your toe. If it's too big, it will slide around, and maybe even slip off. Plus, there's nothing more annoying than realizing that the top of your toe ring has slide around and is now underneath your toe!
Odds are, even with a perfectly sized-to-fit toe ring, you'll need to use a bit of lubricant to slide the ring on your toe more easily. I usually just rub a little hand lotion on my toe first.
The same is true whenever you want to take the toe ring off. You'll probably need to apply a little lubricant again.
Works like a charm!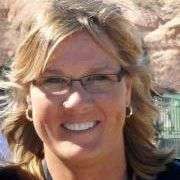 Who knew that I'd be writing about feet for a living?!… Or even that a website devoted solely to feet, shoes, and foot care issues would be successful? But as it turns out, many people have questions and concerns about their feet — and we do our best to provide the most helpful answers here. Myself and a handful of others who happen to have some rather unique foot issues share our firsthand experiences with everything from ingrown toenails, bunions, calluses and rough feet to trendy shoes and helpful foot modeling tips. When I'm not writing about all things below the ankle, you will find me at the corner of Good News & Fun Times as publisher of The Fun Times Guide (32 fun & helpful websites).