Foot tattoos seem to be all the rage right now, everyone wants one!
And while tattoos that are tasteful can look really nice and make you feel attractive, you might want to reconsider before getting one on your foot.
There are a number of reasons that putting your tattoo somewhere else on your body may be a better idea than putting one on your foot…
#1 – The pain.
There is almost no muscle on your feet. In fact, it's pretty much skin on top of bone, particularly on top of your foot.
Because of this, getting a foot tattoo can be extremely painful.
Some people even put foot tattoos on the bottom soles of the foot. This too, is incredibly painful.
So, if you are someone who does not like or cannot tolerate pain well, it's probably a good idea to get your tattoo somewhere other than your foot.
#2 – The amount of space available on your foot.
Because there is not much space on your foot, you won't be able to get a very large or a very detailed tattoo.
Also, tattoos on the foot are more likely to spread and blur, so that is another reason that choosing large or detailed designs isn't such a good idea.
So, if you were thinking of getting a foot tattoo that was either large or detailed, then you may want to consider getting your tattoo elsewhere on your body.
#3 – Some tattoo artists won't put tattoos on feet.
Because of the 2 concerns mentioned above, as well as others, some tattoo artists will not do foot tattoos at all.
They simply don't want to be responsible if someone decides they don't like the tattoo or if there are problems with infection, for example.
#4 – A foot tattoo can take from 2 to 3 weeks to fully heal.

And even then, it's not a guarantee that the skin where the tattoo is won't get infected.
You have to be very careful to keep a foot tattoo clean and sterile — which can be a drawback, especially if you work at a job that requires you to wear closed shoes.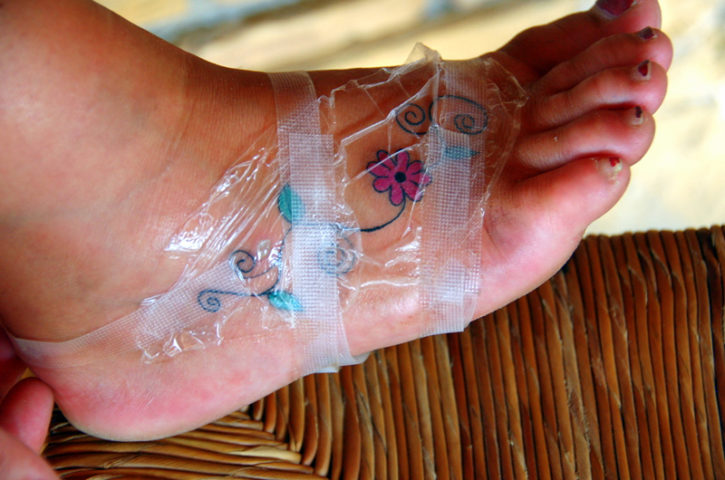 #5 – It can be difficult to hold still while getting a foot tattoo.
The foot is a very sensitive area and just like the knee — where hitting it may sometimes elicit an uncontrolled reaction — the same is true of the foot.
Even if you are doing your best to hold still, there may be instances when the tattoo artist is doing the work that you make involuntary movements.
If you make an involuntary movement and cause the art to get mucked up, it may not be able to be fixed which could mean that you are stuck with a crummy looking tattoo on your foot for many years to come.
In the end, I love the way tattoos look when they are done tastefully and by a good artist, but I would hate to start to have one done on my foot and then because of a reflex action, end up with a tattoo I didn't like.
While we all may agree that foot tattoos look really cool, I personally think there are enough disadvantages to getting them that I wouldn't get one.