This post may contain affiliate links. If you buy thru these links, we may earn a commission at no additional cost to you.
---
I paint my toes more often than I do my fingernails. Guess that goes hand in hand with the fact that I enjoy a good pedicure!
I seriously love the look I get and how long my nail polish lasts after I've had a professional pedicure (or manicure).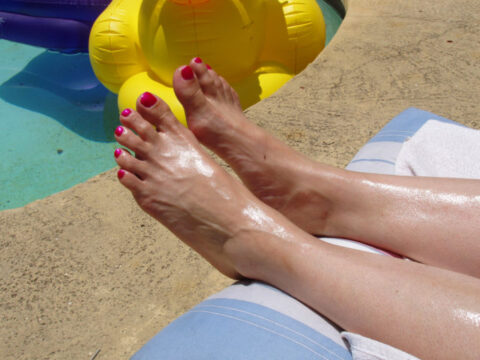 I've finally come to the realization that it's the base coat and top coat which ultimately determine how long your nail polish lasts — without chipping. That, plus these 2 tips will make your pedicure last longer.
The proof: I've been using the exact same nail polish that the pro's use on my nails. I mean, exact!… I take my own favorite color of nail polish each time.
Yet my polish would always start chipping days after I applied it… before I started using a base coat and a top coat.
So I decided to do a little research to see what other beauty experts think are the best base coats and the best top coats.
In the end, I found a top coat and a base coat that I really like, and they've made a huge difference in how long my nail polish lasts without chipping!
Here's what I've learned after trying several of the top and base coats that others have recommended…
Nail Polish Reviews Put To The Test
I set out to try a few of the top (and most affordable) base coats and top coats that I could find, based on reputable nail polish reviews.
These are the ones I started with, along with the reasons you should use a top coat and a base coat to begin with:
Reasons To Use A Base Coat
I used nail polish for years without using a basecoat.
Now that I'm older and wiser, I can assure you that you definitely should use a base coat for the following reasons:
The base coat grabs the nail polish and makes it adhere to your nail better… and longer.
The basecoat prevents your nails from staining or yellowing from wearing dark polishes or the same polish for too long.
The base coat also helps to strengthen your nails so they are less likely to bend and break.
Best Base Coat
Following are the base coats I've tried, along with the best review I found for each one…
Essie Ridge Filling Base Coat -"Sheer beige, with the consistency of regular polish, it evens out bumps and ridges, and even hides bruises on the nails." Source
Orly Bonder – "It's pretty unique in that it dries sticky – so polish literally adheres to it. This makes your polish stay on even better than with normal, non-sticky formulas."  Source
Revlon ColorStay Base Coat – "My polish lasts so long with this, I'm usually bored of it and end up taking it off before I see any chipping!" Source
Essie First Base – "Aside from its amazing fast-drying power, I love this base coat because it will seriously, seriously make your manicure last so much longer – from experience, I'm talking a week plus with no chipping!" Source
OPI Chip Skip – "It works by dehydrating the surface of your nails, absorbing any surface moisture or surface oils. By eliminating that layer of moisture or oil, it lets your nail polish really adhere to your nails and stops your nail polish from chipping easily." Source
Lippmann Ridge Filler Base Coat – "The result was better looking, smooth nails and the polish lasted at least 2 weeks with NO chips! I have two kids and my hands are always in the water!" Source
Poshe Nail Strengthening Treatment Base Coat – "It dries very fast. My nails are definitely much stronger than before, unlike some polishes that merely strengthen the nail temporarily when applied." Source
Reasons To Use A Top Coat
Through the years, I've used a top coat much more often than I've used a base coat.
(I know, shame on me. Both are equally important.)
Here are the reasons that a top coat is a must-have:
The top coat helps your nail polish dry faster.
The topcoat makes your nail polish last longer.
The top coat gives your nail polish a flawless finish.
Best Top Coat
Following are the top coats I've tried, along with the best review I found for each one…
Sally Hansen Insta-Dri Anti-Chip Top Coat – "Apply 1-2 drops on each nail. The wonder Drops made my nail polish dry faster and with "a smooth hard finish."  Source
Orly In A Snap – "It dries quickly, 5 minutes only, and also adds a fair amount of shine to your manicure." Source
Revlon Quick Dry Top Coat – " It hasn't gotten goopy or thick, which is a common problem with top coats. If you're looking for the perfect combination of shine, fast drying and long-lasting, look no further than Revlon's fast drying topcoat." Source
Lippmann Addicted to Speed Top Coat – "That perfect not-too-thick, not-too-thin consistency, so it was easy to apply. No clumping either! The best part had to be how quickly it dried." Source
Seche Vite Dry Fast Top Coat – "95% of nail bloggers are using Seche Vite. It dries fast and is the glossiest of all top coats! However, make sure you have a bottle of Restore too. Keep Seche Vite properly thinned and wrap tips with each coat of base, polish and top coat, and you will have no issues with shrinkage." Source
Poshe Super-Fast Drying Nail Top Coat – "Says apply over wet nails and allow 1 minute for it to dry to the touch. I've heard this story from companies more time than I can count. Poshe lived up to its word! It smoothed out my nail color and chunky glitter and I went to bed. When I woke up the next day I pressed my nail into the polish to see if it would dent and it didn't. This is by far the best topcoat I've ever used. Source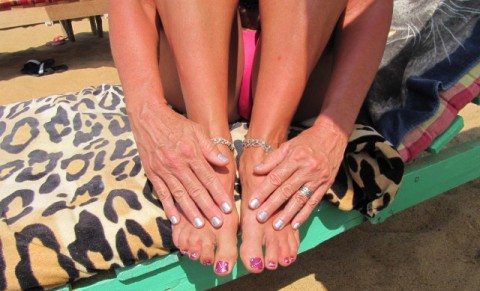 My Favorite Top Coat & Base Coat
After trying them all out, I decided to stick with Revlon ColorStay Base Coat and Sally Hansen Insta-Dri Anti-Chip Top Coat.
The reason? They are the most reasonably priced, easy to find, and have consistently worked the best for me.
As for my favorite nail polishes based on other nail polish reviews… it varies through the seasons, but my current favorite is OPI Lucky Lucky Lavender for my toes and Essie Ballet Slippers for my fingernails.
What's your favorite top coat and base coat?
I'd love to hear what you've tried and which ones make your nail polish last the longest!
Others' Nail Polish Reviews: Top Coats & Base Coats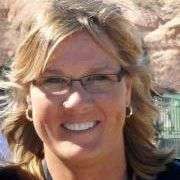 Who knew that I'd be writing about feet for a living?!… Or even that a website devoted solely to feet, shoes, and foot care issues would be successful? But as it turns out, many people have questions and concerns about their feet — and we do our best to provide the most helpful answers here. Myself and a handful of others who happen to have some rather unique foot issues share our firsthand experiences with everything from ingrown toenails, bunions, calluses and rough feet to trendy shoes and helpful foot modeling tips. When I'm not writing about all things below the ankle, you will find me at the corner of Good News & Fun Times as publisher of The Fun Times Guide (32 fun & helpful websites).