This post may contain affiliate links. If you buy thru these links, we may earn a commission at no additional cost to you.
---
Foot reflexology… foot acupressure… foot massage… what's the difference?
Nothing really.
Acupressure for feet, also known as foot reflexology or foot massage, can be done on its own or as part of your regular exercise routine to relax and energize, to improve circulation and to stimulate internal organs and major energy meridians that end in the feet.

~ Source
The key difference for me is the fact that acupuncture involves those tiny needles placed at key pressure points in the body, but with acupressure you just use your fingers or hands instead.
(Same with reflexology and massage.)
Here are some of the key areas of the foot to concentrate on when you're looking for acupressure spots to relieve a variety of ailments.
Plus, pressure points in other parts of the body that might be helpful, as well.
First Things First…
Here's how to do a reflexology foot massage (on yourself or someone else).
Notice that you can choose to concentrate on the foot and ankle in general or focus on specific pressure points. Each yields different results.
The good news is… for most healthy individuals, a 5-minute foot rub (per foot) can be performed daily without any problem.
So acupressure of the feet appears to be one of the safest ways to help yourself.
And it's easy, too!
Videos Showing How To Do Foot Acupressure
---
---
---
Key Pressure Points In The Foot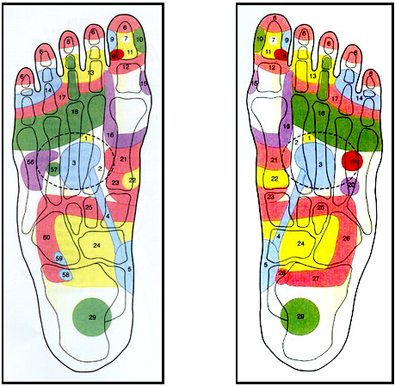 This is a thumbnail of Matthew Scott's awesome Foot Reflexology Chart (.pdf). Click the photo to see an explanation of each pressure point in the foot and see which part of the body those pressure points affect.
Here are a few other Foot Pressure Point charts where you can see the pressure points in the foot from a side view, an inside view, and a view looking down at the foot.
Other Key Acupressure Points In The Body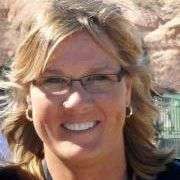 Who knew that I'd be writing about feet for a living?!… Or even that a website devoted solely to feet, shoes, and foot care issues would be successful? But as it turns out, many people have questions and concerns about their feet — and we do our best to provide the most helpful answers here. Myself and a handful of others who happen to have some rather unique foot issues share our firsthand experiences with everything from ingrown toenails, bunions, calluses and rough feet to trendy shoes and helpful foot modeling tips. When I'm not writing about all things below the ankle, you will find me at the corner of Good News & Fun Times as publisher of The Fun Times Guide (32 fun & helpful websites).