This post may contain affiliate links. If you buy thru these links, we may earn a commission at no additional cost to you.
---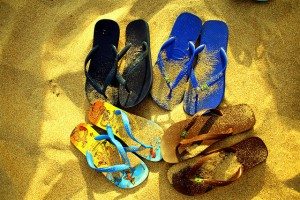 Havaianas (the Portuguese word for 'Hawaiians') are the brand name for a line of flip flops made in Brazil.
The slogan for Havaianas is "The Real Ones," suggesting that all other flip flops are a knock off. It is very possible, since they have been around since 1962.
Havaianas are a bit more expensive than your average flip flops — which are generally less than $5 a pair.
On the other hand, Havaianas typically sell for between $15 to $30 a pair.
Here's why so many people love their Havaianas…
How Havaianas Are Different
Havaianas were inspired by Japanese Zori sandals that are made of fabric straps and rice straw soles. You will notice the textured rice pattern on the soles as a main feature of these flip flops.
See how to make your wwn Zori sandals.

So, how are Havaianas different from other flip flops?
Well, Havaianas began to distinguish themselves from knock-offs as early as 1970 when they launched a commercial stating that "they don't lose their shape, they don't smell, and the straps don't get loose", unlike other flip flops.
Since the 1990's Havaianas have been the height of flip flop fashion and are frequently featured in fashion magazines whenever new prints, colors and models are added to the lineup.
Would you believe they even have a line of Havaianas for babies? Under a special partnership with jeweler, H. Stern, there was once a line of Havaianas that featured a gold finish embedded with diamonds
My personal favorite is the sleek Havaianas FIT line that adds a back ankle strap to the flip flop, for a more dressed up look and a bit of added support.
Havaianas Reviews
If you're like me, then you like to see what others are saying about something before you buy it.
Here are some reviews of Havaianas:
See where Havaianas are made with a look inside the factory in Brazil:
Where To Buy Havaianas
I have been a certified tightwad since I became pregnant with my first child and decided to find a way to stay home with him. I enjoy sharing my experiences in my journey back to financial health and planning for a future — which will include sending 2 kids to college and early retirement.