This post may contain affiliate links. If you buy thru these links, we may earn a commission at no additional cost to you.
---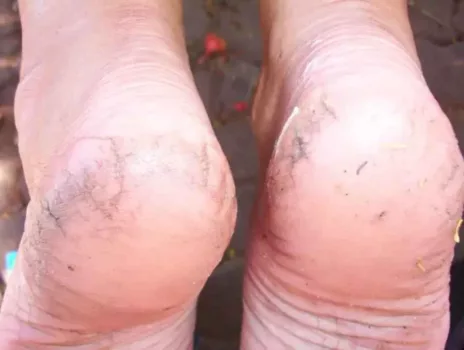 Most of the time when you think of dry and cracked feet you think of your heels.
That's always been my problem. The rest of my feet are nice and smooth, but my heels are always dry and cracked.
Figuring out how to get my feet back to a nice soft, healthy look hasn't been easy.
Following are the best natural home remedies to treat your dry, cracked heels and feet.
What Causes Dry, Cracked Feet?
Some of the causes of dry, cracked feet are:
Poorly fitted shoes
Age
Athletes foot
Diabetes
Psoriasis
Thyroid disease
Even household heat that sucks the moisture of the air can be a cause of dry, cracked feet.
Signs That It's Time To Treat Your Feet
Symptoms of dry, cracked heels and feet can include, but are not limited to:
Red and dry patches of skin
Peeling and cracked skin
Itchy skin
None of these are pleasant. In fact, each can be quite uncomfortable.
One of the biggest problems when you have dry and cracked feet is wanting to pull off pieces of dead skin that are loose. The downside to this is the fact that the dead skin is attached to live skin, and when pulled, it on can pull down to the quick causing you to bleed.
Furthermore, if the area isn't properly cared for it can get infected.
Home Remedies For Dry, Cracked Feet
Because I'm not a big fan of chemical medications —  whether they are internal or external — I prefer to use natural cures when it comes to controlling the dry, cracked skin on my feet.
Here are some natural remedies that you can try to make your feet look and feel softer and more healthy:
Oh, and another good one, as described in the video below: diaper rash cream!
---
I've personally tried many of these natural cures and they do work, particularly the one where you use shortening at night. Strangely enough, that one works really well. Plus, it's a very cheap cure!
If you have dry, cracked feet there are plenty of natural remedies here to try. If one doesn't work for you, then by all means try another. Eventually you'll discover the best one for you.
One thing to keep in mind is that if your feet really hurt when you put pressure on them, you may have a deep heel fissure, and possibly even an infection. When nothing seems to improve the situation it's time to go to your doctor. Natural home remedies are wonderful, but sometimes a condition becomes so bad that only your doctor can help you to cure it.
More About Dry Feet 
My favorite things to write about are topics that have to do with pregnancy, weddings, saving money, living green, and life with dogs. When I'm not writing, I love to spend time with my husband, read, create 3D artwork and Native American beadwork.